Our home study is DONE! Our social worker made a visit to our home on Feb 29th. She took a tour of our home, asked if we had a fire extinguisher and smoke detectors (we have nine!) and then we sat down and visited about the next steps. She told us to go ahead and make an appointment with the INS office. This is all done online, I found out that we could go in the following week. So our social worker was so kind to complete the last part of her home study documents and have it ready for us to pick up to take to our INS appt.
Our home study is like a book about us! It covers everything on what our parents and siblings are like, description of our home, parenting skills and even what our financial status is. We use this home study report a few times to submit with
the
paperwork. We had to have an approved home study to be able to apply with the INS.
Its officially been 8 days since we made our visit to the Department of Homeland Security. It was an interesting experience. I didn't even know we had an office like this in Kansas City, and it was surprisingly close to Johns office..probably less than one mile! The process took less than an hour. We had made an appointment a week before that. After we went through security, our appointment with the INS was actually at a little window! We turned in our documents and application and then were told to wait in line for fingerprinting. Fingerprinting is digital now, so we didn't leave with messy fingers!
We are excited to get our form back from the INS. This will complete EVERYTHING we need to send off in our Dossier to Ethiopia. This could take anywhere from 2 weeks to 3 months! From what I am hearing that right now its taking about a month. So the quicker this little paper comes the quicker we will be on our way to Ethiopia to pick up our little girl!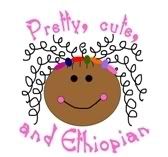 YEP! That's right, we decided to ask for a girl. Originally we were going to leave it open. John really wanted a girl, I was leaning towards a boy. But for some reason, every time I would picture us with our child, I would see a girl! So, the night before the home study was complete, we called our social worker and asked if we could change it. It was no problem!
Other news....our "little brother" Lucas was promoted to a yellow belt in his Judo class. We are very proud of him!! He started Judo just a few months ago, and he is doing so well. We take Lucas to Judo each week, we are hoping to take him to a tournament in the near future. Here are some photos of Lucas during his promotion ceremony.